How you will get to Metsovo
Instructions for access

- Athens - Metsovo (through Lamia - Domokos - Trikala): distance 370 km. - time: 4 h and 15 minutes.
- Athens - Metsovo (through Rio - Ioannina and Egnatia motorway): distance 450 km. - time: 5 h and 20 minutes.
- Thessaloniki - Metsovo (through Egnatia motorway): distance 150 km. - time: 1 h and 45 minutes.
- Ioannina - Metsovo (through Egnatia motorway): distance 35 km. - time: 20 minutes.

- Igoumenitsa - Metsovo (through Egnatia motorway): distance 100 km. - time: 50 minutes.

View Hotel Apollon - Metsovo in a larger map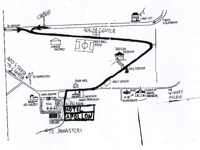 METSOVO: The area
Metsovo is one of the most picturesque and traditional towns in Greece. It is located at a distance of 40 km. from the city of Ioannina (through Egnatia motorway), 80 km. from Trikala (through a majestic route from Meteora). Metsovo is built at an altitude of 1.150 m. on a mountain slope of Mount Pindus. Nowadays, Metsovo has a population of 4.000 habitants and is the homeland of many prominent men of the modern Greek History. The major Greek Benefactors came from Metsovo as well as notable men of the arts and literature.
Please see more about our region: Metsovo, Ioannina, Epirus.
Metsovo is really a great masterpiece of architecture with well preserved mansions, notable museums and cultural centres. The traditions are still alive in Metsovo. In its picturesque stoned paths you will meet the old ladies wearing our local dresses and you will hear them speaking the local dialect, the "Vlach dialect". The walks in the stoned streets and the spectacle of all beautiful houses will sure compensate even the most demanding visitors, and you will feel that you travel back to a past time.
In Metsovo, the habitants occupy with the livestock, but also with woodworking. They are skilled in the sculptures and the items of pastoral sculpture. Many work and in other items of Folk Art, such as woven, embroidered and handmade woollen carpets. Famous are also the dairy products, but also the wines of Metsovo.
In the last few years Metsovo has known an important tourist development, because increasingly more tourists prefer it to pass their vacation all the seasons of the year. The buildings of the unique architecture of wood and stone, the picturesque paths, our delicious unique recipes, the unique products, but also the generous hospitality of the habitants, make Metsovo an ideal place for vacation. In winter enjoy the snowy landscape or try to do ski and play with the snow in the ski resort, which is located only 3 km. from Metsovo. Through the other seasons you should come and rest and enjoy the magnificent green landscape.
Here you will find for your accommodation our hotel "Apollon", ready to serve you in everything you may need. Please see more in the next page: The hotel.